Politics
City Probing Anti-white Texts Linked To Black Superintendent
According to officials, the city is looking into widely circulated screenshots of anti-white letters reportedly written by the black superintendent of Staten Island schools.
The inflammatory texts vowing to get rid of white principals and "clean up this island" are attributed to District 31 Superintendent Marion Wilson.
The screenshots, which two principals forwarded to us, are troubling.
"No more white principals on my watch!" says one text under Wilson's name.
"I need to clean up this island," another text reads. "White folks need to recognize this is not the boys club anymore. A strong black woman runs this bitch now, and they can either get on board or get out. If they don't get out, I'm going to take them out one by one. They're not gonna know what hit them. Gonna be fun."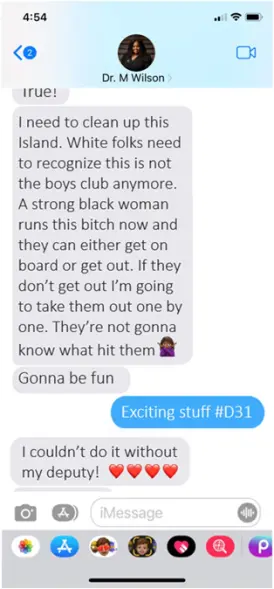 A third text says, "Chris's white ass is G-O-N-E. It's happening."
That appears to be a reference to Christopher Anzalone, a former executive director of District 31 who went to Brooklyn's District 23 as executive director of school support and operations.
"I agreed to take CL … She'll keep the white folks off my back," the text continues, apparently referring to Christine Loughlin, who was removed by Chancellor Banks as superintendent of District 3 in Manhattan.
Loughlin, a white man, is currently the executive director of school support and operations for District 31.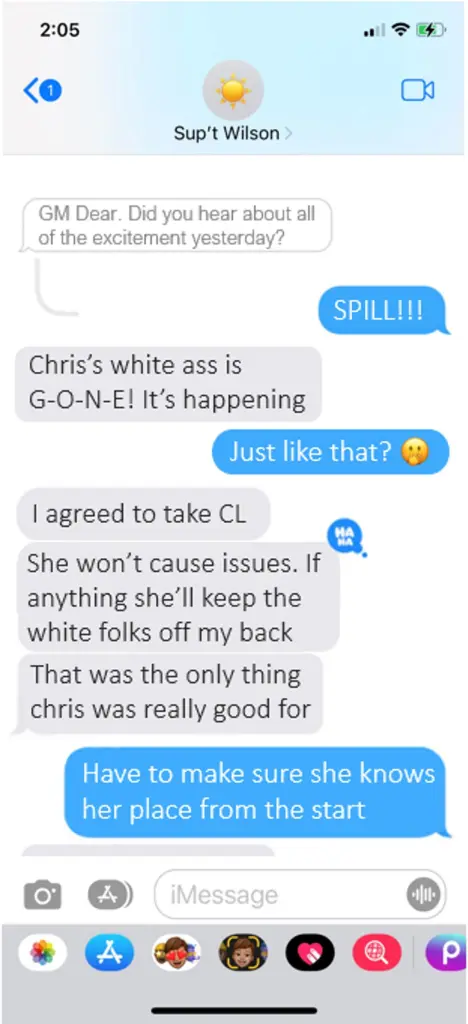 Another purported screenshot shows Wilson texting about two white Staten Island principals, David Cugini of Susan Wagner HS, a nephew of the late Christy Cugini, a former District 31 superintendent, and Nicholas Mele of IS 51:
"LOL Mele and Cugini better play nice. They're first up on the chopping block," it says.
Wilson sent Banks and a team of DOE supervisors to stroll around the school to check on the well-being of pupils after an NYPD officer was accused of assaulting a girl near IS 51 on Jan. 3.
The facility was judged to be secure and free of severe concerns, but insiders say Wilson was cracking down on Mele.
Wilson, 52, did not respond to an interview request.
Officials told The Washington Post that once the DOE press office informed her of the emails, she denied authoring them and said that her adversaries were attempting to defame her.
The DOE told the Staten Island Advance on Friday that the texts are "fake," and that the city's Special Commissioner of Investigation is looking into their origins — a claim the SCI categorically disputed in a statement to The Post.
An SCI spokesperson said they received a complaint about the texts, but referred it to the DOE "for appropriate action."
SCI confirmed that an inquiry into a relevant situation is ongoing, but refused to address it.
The SCI also blasted DOE spokesman Nathaniel Styer's statement that "SCI is not investigating [Wilson]. SCI is investigating fake texts and spoofing."
The SCI spokesperson countered: "That is not an SCI statement, and DOE should know better than to speculate on confidential investigations being conducted by SCI.
Regardless, DOE's press office does not speak for SCI. SCI's statement was that we do not confirm or discuss matters that are pending."
After seeing the screenshots, a Staten Island parent with a child in public school expressed worry.
"It's disturbing. There's got to be an investigation," the parent said. "If it's true, you don't want somebody like that running the show in the district. If it isn't true, somebody should be held accountable for that. It needs to be transparent."
In Wilson's defense, one Staten Island official noted that she hired a white principal, Brandon Chall, to PS 56 after his predecessor died last year.
Yet, Wilson has openly stated his desire to hire more "BIPOC" – black, indigenous, and people of color – to serve in Staten Island schools, according to the parent.
Local black educators were celebrated last month at a Black History event held by City Councilwoman Kamillah Hanks and state Assembly Assistant Majority Leader Charles D. Fall at the College of Staten Island.
"I wanted you to understand how incredible it is, through the leadership of Superintendent Dr. Marion Wilson and our Chancellor David C. Banks, that we are now looking at 14 black principals on Staten Island," Hanks said.
A Brooklyn principal cited complaints by colleagues: "Many assistant principals and principals have voiced comments made by the District 31 superintendent about hiring only black administrators for vacancies. Many administrators with tenure who live in Staten Island have left for other districts."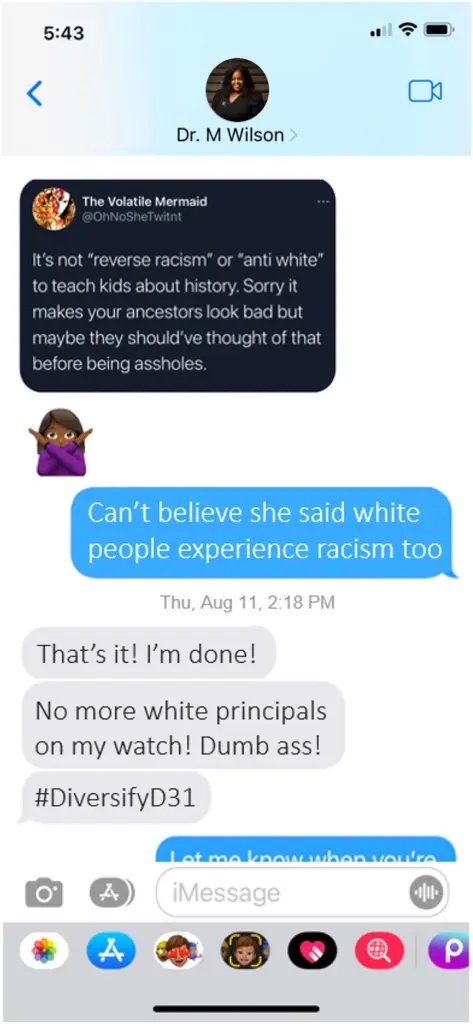 A request for comment was not returned by the Council of School Supervisors and Administrators, which represents principals.
State Assemblyman Michael Reilly of Staten Island would not discuss the screenshots, but said, "In her two years as superintendent of District 31, I have only known Dr. Wilson to be an ally for our public schools and an advocate for students, parents, and teachers.
She is a reliable public servant who has always interacted with me and my staff with the utmost professionalism and respect."
Staten Island has the highest percentage of white students of any district — 40.3%, compared to 14.7% citywide, DOE data show. The racial makeup includes 29.8% Hispanic, 14.2% Asian, and 12.8% black.
Wilson, who joined the DOE in 2006 as a principal, was named District 31 Superintendent in September 2021, after serving as deputy superintendent for two years and previously as an administrator in Manhattan's District 5.
In June, Chancellor Banks reappointed her to the top position on Staten Island.